Home How it works ? / How it works
How it works


1.Select
the length of your rental period
2. Choose
your furniture
3. Let us know
your move-in date and your preferred delivery option.
We offer two options for delivery: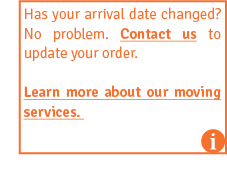 Full service option: SeMeubler coordinates delivery and pick up of your furniture for an additional cost;
Self-service option: you collect and return the furniture to our warehouse at no additional cost.

4. Confirm
your order using our secure online payment system
Your booking will be confirmed once we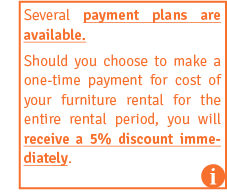 have received the following payments:
First month's rent;
One month's portion of the delivery fee (1);
The deposit, which is equivalent to 2 months's rent (2).
Going forward, monthly payments will be deducted from your account on the fifth of the month for the duration of your rental period.
(1) only applicable to orders which include the Full Service delivery option
(2) deposit will be fully reimbursed once the property has been returned and assessed, see CGS

5. Enjoy
your furniture with peace of mind with GetFurnished's customer service guarantee
(3) this applies in cases where the appliance has only been used correctly
6. Let us know
your departure date
for furniture collection by our team of professionals, or
for you to return the furniture to our warehouse
An inventory of the property will be taken and your deposit will be returned.
Product successfully added to your shopping cart